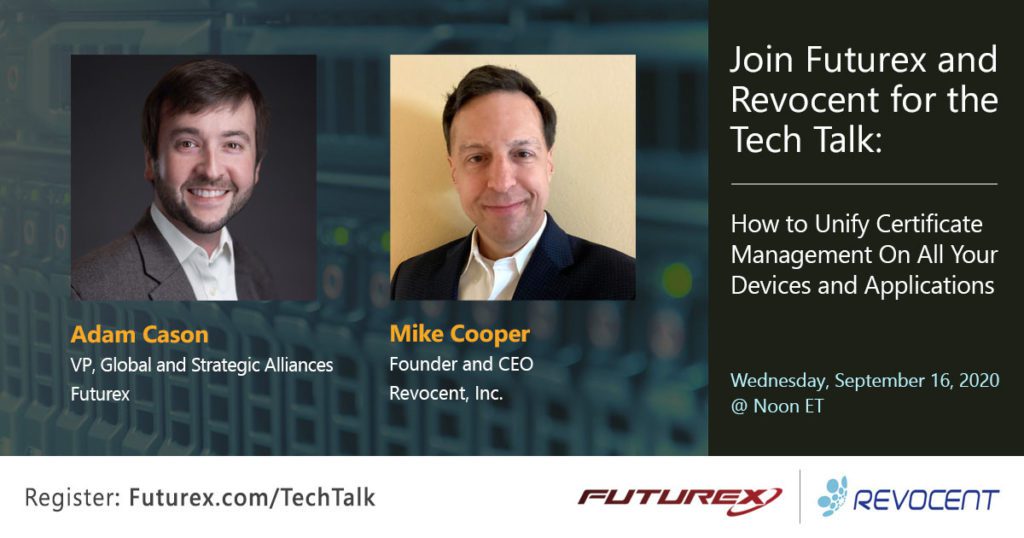 With a combination of Microsoft Active Directory Certificate Services (ADCS) and Revocent CertAccord Enterprise you can automate certificate provisioning and renewal across your entire network. Now in a Tech Talk on Wednesday Sept. 16 you can learn how to take this a step further by taking advantage of a FIPS 140-2 Level 3 validated platform for key management from Futurex.
In this Tech Talk entitled "How to Unify Certificate Management On All Your Devices and Applications," Adam Cason, Vice President of Global and Strategic Alliances at Futurex, will join me for an interactive discussion on how you can improve the automation and security of your organization's PKI.
By attending the Tech Talk you will:
Learn how to streamline certificate automation for Linux/UNIX/Mac computers from Microsoft ADCS and eliminate manual processes
Learn how applications can be automatically provisioned with certificates that are fully managed
Learn how to improve data and key protection with a FIPS 140-2 Level 3 validated platform
Learn how to overcome common hurdles in deploying enterprise certificate authority environments
We are extremely pleased to be working with Futurex on this effort to help organizations improve their PKI and key management. For over 40 years, Futurex has been a trusted provider of hardened, enterprise-class data security solutions. More than 15,000 organizations worldwide, including financial services and corporate enterprises, have used Futurex's innovative hardware security modules, key management servers, and enterprise-class security cloud solutions to address their mission-critical systems, data security, and cryptographic needs.
We hope you'll join us on Wednesday, Sept. 16 for what I'm confident will be a lively and engaging discussion. Head over to the registration page now to reserve your spot.