CertAccord™ Enterprise 6.0 Features Modernized Management Console UI
With the release of CertAccord™ Enterprise 6.0 from Revocent, managing certificates and policies, registering devices or changing settings just became easier and more intuitive via the browser-based CertAccord Management Console.
The latest release, available now for download by registered customers, features an extensively revamped and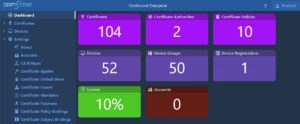 updated Management Console graphical user interface, including both visual enhancements and backend improvements. It's intended to gives users a clean and sleek user experience with such enhancements as simplified editable forms, improved data presentation and more intuitive menu navigation. It also offers a new dark theme for improved look and feel.
Since the console can be accessed from a range of devices, a lot of work went into making sure the UI is responsive to various screen size and layouts. Tables that can show long lists of certificate or devices now have a cleaner and sleeker look and feel while the look of the view screens has been enhanced to show data in smaller boxes of related data. Similarly, editable forms are less cluttered and more suitable for a variety of screen sizes.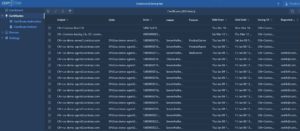 Whether you're accessing the Management Console from a desktop, laptop or tablet, you'll always have the same comfortable user experience, saving time and maintaining productivity.
Introducing Certificate Mandates
With CertAccord Enterprise 6.0 we have also greatly improved certificate provisioning at scale. This release introduces Certificate Mandates that make it easier and simpler to create certificates at scale from the Management Console. A Certificate Mandate is a customer created specification for a certificate.  You can assign a Certificate Mandate to an individual end-point device or to large groups of devices using Active Directory Groups.  Once a Certificate Mandate is assigned CertAccord will automatically create and manage the appropriate type of certificate.
More Information
This release is available for download by registered customers from https://revocent.com/download. You can find full details on this release in the CertAccord Enterprise Release Notes and the Administration Guide. Contact Revocent today to learn how CertAccord Enterprise 6.0 can improve your security profile, reduce costs, and scale your enterprise CA.
About Revocent and CertAccord Enterprise
Founded in 2015, Revocent provides innovative PKI products to organizations of all sizes worldwide. The company's premier CertAccord Enterprise product provides X.509 certificate automation to enable customers to extend their existing Microsoft Enterprise CA to Linux, Mac, and UNIX platforms.  Full life-cycle management of certificates allows customers to significantly reduce ongoing labor costs, improve security, and simplify their PKI.
CertAccord Enterprise allows Linux, MacOS X, Solaris, and Windows (including non-AD joined) systems to easily create and install fully managed digital certificates. Integration with Active Directory is built in into CertAccord and does not require changing authentication systems at the OS (Linux) level. You can install CertAccord in hours – not months – without major changes to your existing PKI or AD environments.
The enrollment and fully automatic renewal of certificates from Microsoft ADCS on platforms such as Linux and MacOS X significantly reduces costs and reduces risk of service outages from manual certificate creation. Automatic renewal of certificates significantly lowers cost and significantly reduces the risk of service outages.